We're often asked about our online 'create your own' design tool so in the video below we'll show you some of the features and walk-thru creating a custom design.
The first decision you have to make before starting your own Magic Band cover design is whether you want a 1-piece or 2-piece Skin. Making the choice is a matter of personal preference. A 1-piece skin will cover the whole of the colored portion of your Magic Band, including the logo in the middle. The 2-piece design comes in two parts that are applied each side of the 'Mickey' logo leaving it visible in the middle. Some people prefer to have the logo on show while others like to use the additional space on the 1-piece style. Covering the logo in the Middle of the MagicBand does not affect how it works in anyway.
Next choose the Magic Band color. What's this for? This is two-fold. First of all it allows you to see what your design will look on the Magic Band color you have (or are getting). Secondly choosing the color here will choose the default canvas color. This will be the color we print on areas not covered with designs or text. So, for example, if you were to just add the your name in text on the design we'd print the text in your chosen color and the background will be the of the Magic Band color you selected.
A Magic Band Cover design is made up using layers. There are three layers of images available followed by 2-3 text areas. You don't have to use all of these, you can use any combination.
Starting with the background layer first you can use designs from our library of images, these are taken from the many of the stock designs we have available. You can also upload and use your own background image. If you want this to cover the entire band we suggest that this be at least 2300 pixels wide but 270 pixels tall - bigger is fine.
You can then optionally add more images to the design. To do this you need to switch the layer that you are working on by selecting the additional layers from the drop down in the add image box. The images are called "First Image(Background)", "Second Image (Middle)" and "Third Image(Foreground)", as this is order they will appear on the design should the images overlap.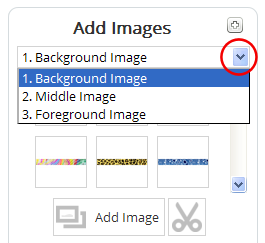 Lastly, you can add text to your design in a variety of fonts, colors and sizes. You may want to add your name, a date or even an emergency contact phone number to your Magic Band or, of course you may choose not to add any text.
Once you are happy with the preview of your design you can select the quantity and add it to your shopping cart!