As you'll probably know, you can create personalised MagicBand Skins from most of our designs or create your own unique custom MagicBand skin on the site using our create your own design tools...
Read More
We're very pleased to announce that we are now able to offer Custom Glow In The Dark MagicBand Skins!
This is something we have been asked for a while and thanks to some changes here we are can now provide this.
We currently have a dedicated Custom Glow In The Dark editor which you can use to creat those designs. As with our other custom designs, you can use designs from our library as a base to your own design or create your own completely from scratch by uploading your own images etc.
Do bear in mind that the lighter the color used in the design, the brighter the glow will be. So white on the design will be the brightest through to black which will have no glow at all.
We excited to add this to our range and are looking forward to seeing what designs you all will make!
Read More
Are you or your cheerleading group attending The Cheerleading World Championship, Cheerleading Summit, D2 Summit at Walt Disney World this year?
We are happy to work with your group to help you come up with a custom Magic Band Skin design that shows your Cheerleading groups name, logo and colors. We can even ensure that each member of the group has their own band, personalized with their own name.
Please Contact Us to have us help you and give you a quote for your Summit Magic Band Skins.
Of course, we are happy to work with other sports teams, parties and groups!
Read More
We're rapidly approaching the end of 2018!
Throughout the holiday period, as always, we will be accepting orders 24 hours a day, 7 days a week and will be responding to email enquiries as quickly as we can. Live chat will not be available throughout the December 25th and 26th.
We can accept orders for pre-Christmas delivery via FedEx up to close of business on December 19th.
Our last shipping day will be Friday December 21st and shipping will commence again on December 27th. You can still place orders throughout this period and any orders received will be prepared ready to dispatch as soon as mail and FedEx resume their services.
Please note that due to Christmas post, delivery times for free shipping (using USPS) may lengthen slightly.
Thanks to all of our customers that have helped us build a great and fun business throughout 2018. We're looking forward to an exciting 2019 and wish everyone a very Merry Christmas.
Please do not hesitate to contact us if you have any questions at all.
Read More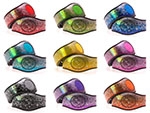 Today we introduce a band new Silver Material for our MagicBand 2 Skins. This provides us with a massive new range of options and a wealth of new design ideas that we can bring.
The whole range of Silver Print MagicBand 2 Skins is available right now!
Read More