Here's a quick update as to our status through the Coronavirus (Covid-19) Pandemic.
These are uncertain and challenging times for all of us. As an online business we are easily able to to work from home and our team went in to self-isolation working from home a few weeks ago.
Our print and production facility is in a building attached to my own home so we're able to work at full capacity. Post is still being collected at regular intervals and we're still able to ship your orders.
We recognise that many of you will not know if or when your trips will take place but we're here for you as and when you want to order. We all need a little bit of Disney now and then! :)
From our family to your's we wish you the best of health.
Read More
We're rapidly approaching the end of 2019!
Throughout the holiday period, as always, we will be accepting orders 24 hours a day, 7 days a week and will be responding to email enquiries as quickly as we can. Live chat will not be available throughout the December 25th and 26th.
We can accept orders for pre-Christmas delivery via FedEx up to close of business on Thursday December 19th.
Our last shipping day will be Saturday December 21st and shipping will commence again on December 27th. You can still place orders throughout this period and any orders received will be prepared ready to dispatch as soon as mail and FedEx resume their services.
Please note that due to Christmas post, delivery times for free shipping (using USPS) may lengthen slightly.
Thanks to all of our customers that have helped us build a great and fun business throughout 2019. We're looking forward to an exciting 2020 and wish everyone a very Merry Christmas.
Please do not hesitate to contact us if you have any questions at all.
Read More
Are you looking for ways to personalize your trip to the most magical place on earth? Create your own Disney magic with Magic Your Band's fully customizable Magic Band Skins and buttons. Use one of the many stock designs on the site to create a super fast personalized button. Or simply create a unique design from scratch, your very own personalized buttons are just a few clicks away! There are many fun customizable themes and designs for every occasion. The pin back buttons can be pinned to clothes and zipper pulls or pinned to your bags and luggage. From fun and elegant designs to metal and glow in the dark designs, creating custom personalized buttons has never been easier.
Read More
We're ofter asked by customers "what's the best Magic Band Color?" This is a very hard question to answer, there are a few color options...
In terms of the free Magic Bands offered by Disney to resort guests, the options are: Gray, Yellow, Blue, Pink, Green, Orange, Purple and Red. Other solid color Magic Bands can be purchased from Disney store locations: Lavender, Turquoise, Navy, Dark Green, Millenial Pink, Black and White.
Color choices can be hard and picking the best Magic Band color is no different. When speaking to our cients we often suggest to them that they pick a color that will compliment their Magic Band skin choice.
Fortunately, no matter what color choice you may make, our Magic Band Skins fit the Magic Band perfectly, no gaps, so you really only see the underlying Magic Band color if you look at the absolute edge of the Magic Band, or if you choose not to cover the Magic Band Puck in the middle - note that all of our designs come complete with a decal to cover the central puck of the Magic Band at no extra cost, so you can decide whether or not to apply it depending upon your personal preference.
Is any one Magic Band color better than another? Simple answer is no, not really. Regardless of the color, Magic Bands are all identical and the Magic Band Skin, or decal, will fit any color you have. It really boils down to personal preference!
Read More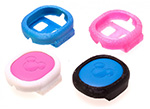 Since the introduction of MagicBand 2 a few years ago, Disney opened up the possibility of the useful, RFID portion of the MagicBand to be removed.
Removing the 'puck' portion of the Magic Band means that the puck can be used in its own or added to a puck holder so that the band itself doesn't have to be worn.
Puck holders come in a number of types, from adapters that allow you to add the puck to a watch band, to those that turn it in to a key ring or key fob.
Whichever option you might take, one thing you will need is a Magic Band Screwdriver. The screw on the Magic Band are tiny and of course need a correct screwdriver to suit.
The correct Magic Band Screwdriver size is a #00 of PH00. You can find these on Amazon or Ebay relatively cheaply.
Be very careful when removing the screws, they are extremely small and easy to lose or damage as you take them out.
Read More