Limited Edition Flower & Garden Inspired Designs
19 Feb 2016 02:00:00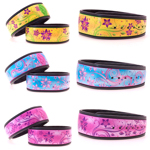 As we say goodbye to some to some of our limited edition glitter Magic Band Skins we say hello to another set. This week we introduce our Spring Flowers Series 2 designs.
Inspired by the Epcot International Flower and Garden Festival, this new series features a recurring flower theme with differing patterns and colors, building upon the first limited edition series from 2015.
You can see the entire series of Limited Edition Spring Flowers Series 2 Magic Bands in more detail in the store now. They're here for a limited time.
Remember, all of our MagicBand covers are precision cut and professionally produced to ensure a perfect fit to the colored portion of the MagicBand and are suitable for both smaller and larger MagicBands.
Bookmark with:
Digg.com
Stumbleupon.com
Del.icio.us
Facebook
Reddit.com