Glow in the Dark Moon Skin
18 Mar 2016 02:00:00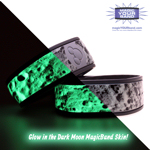 Our glow in the dark designs are among the most popular items on the site so we're adding more!
This week we're continuing the space theme so here's the latest Glow in the Dark Moon Magic Band Skin...
Featuring a highly detailed image of the moon and its craters, this design is printed on our unique and specialized glow in the dark material that not only looks great in the daylight but looks awesome in the dark with a bright glow that you'll love on dark rides and those with strong UV lighting.
You can find this new Glow in the Dark Moon Magic Band Skins in the store now.
Bookmark with:
Digg.com
Stumbleupon.com
Del.icio.us
Facebook
Reddit.com