Sea Creatures Magic Bands
26 Feb 2016 02:00:00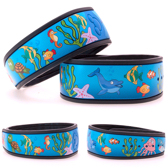 We go under the sea with a new Magic Band Skin design this week featuring many of your favorite underwater friends...
The new design has Dolphins, Sharks, Clownfish, Turtles, Seahorses and Starfish all hand drawn in to a cute underwater scene. You can choose between a 1-peice or 2-piece style depending upon your preference.
You can find these new Sea Creatures Magic Band Skins in the store now.
Remember, all of our MagicBand covers are precision cut and professionally produced to ensure a perfect fit to the colored portion of the MagicBand and are suitable for both smaller and larger MagicBands.
Bookmark with:
Digg.com
Stumbleupon.com
Del.icio.us
Facebook
Reddit.com