As you'll probably know, you can create personalised MagicBand Skins from most of our designs or create your own unique custom MagicBand skin on the site using our create your own design tools...
Read More
We're very pleased to announce that we are now able to offer Custom Glow In The Dark MagicBand Skins!
This is something we have been asked for a while and thanks to some changes here we are can now provide this.
We currently have a dedicated Custom Glow In The Dark editor which you can use to creat those designs. As with our other custom designs, you can use designs from our library as a base to your own design or create your own completely from scratch by uploading your own images etc.
Do bear in mind that the lighter the color used in the design, the brighter the glow will be. So white on the design will be the brightest through to black which will have no glow at all.
We excited to add this to our range and are looking forward to seeing what designs you all will make!
Read More
Are you or your cheerleading group attending The Cheerleading World Championship, Cheerleading Summit, D2 Summit at Walt Disney World this year?
We are happy to work with your group to help you come up with a custom Magic Band Skin design that shows your Cheerleading groups name, logo and colors. We can even ensure that each member of the group has their own band, personalized with their own name.
Please Contact Us to have us help you and give you a quote for your Summit Magic Band Skins.
Of course, we are happy to work with other sports teams, parties and groups!
Read More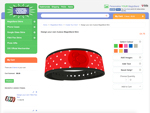 We're often asked about our online 'create your own' design tool, so in the video below we'll show you some of the features and walk thru creating a custom design....
Read More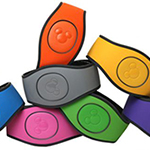 As previously mentioned, Disney have announced MagicBand 2, a redesigned or reimagined MagicBand that is a different shape to the existing MagicBands on offer.
As the MagicBand is a significantly different size and shape we need to update all of our designs and our custom design tool to accommodate the changes...
Read More