Details
Let everyone know it's your first visit to Walt Disney World with this First Visit design featuring Mickey heads and castle centerpiece. Don't forget to pick up your first visit park button too!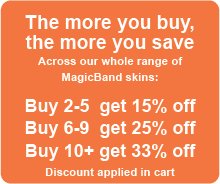 Our specialist adhesive ensures that the Skin stays firmly in place while allowing for trouble-free removal when you are ready to change your style.
This Magic Band cover is precision cut and professionally produced to ensure a perfect fit to the colored portion of your Disney MagicBand and is suitable for both smaller and larger MagicBands.
Waterproof
UV resistant and lightfast
Precision Cut to the same shape as the MagicBand
Ultra-flexible
Pre-punched holes for smaller sizes
Great discounts when you order more
Despatched within 24 hours of order*
Free international shipping on all Magic Your Band orders
*Excludes orders that contain personalised products.
Customer Search Tags: magic kingdom, first visit, Magic Band Disney, 1st visit magic band