Details
Celebrate the holiday season with this Glow in the Dark Happy Holidays Fitbit Skin in green.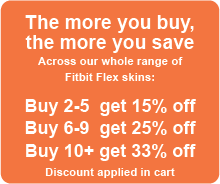 Our Fitbit Skins have two pieces to cover both sides of your Fitbit Flex band and are precision cut and professionally produced to ensure a perfect fit with your Fitbit Flex.
Our specialist adhesive ensures that the Skin stays firmly in place whilst allowing for trouble free removal when you are ready to change your style.
Glow in the dark design
Waterproof
UV resistant and lightfast
Precision Cut to the same shape as your Fitbit Flex band
Ultra-flexible
Simple to apply
Easy to remove without damaging the Fitbit band
Great discounts when you order more.
Despatched within 24 hours of order*
Free international shipping
Note that Fitbit bands vary in size so our Skins intentionally stop short of the clasp and holes in order to be suitable for all band sizes.
Please note that these Skins are slightly elastic so extra care is needed when applying them so as not to stretch them. These may also leave residue behind on the band if left in place for a period of time. This can easily be rubbed off or removed with a small amount of nail polish remover.
*Excludes orders that contain personalised products.