Home

>

Monorail Yellow Button
Details
This fully customizable button features Monorail Yellow and allows you to add your own custom text and other images for a unique personalized park button!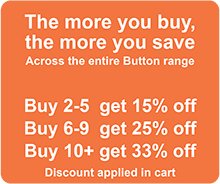 Buttons made to order using professional grade materials and parts. Our buttons are metal-fronted and plastic safety backed.
3"/75mm Round Metal Button
Glossy Finish
UV resistant and lightfast
Safety backed
Great discounts when you order more
Despatched within 24 hours of order*
Free international shipping
*Monday through Saturday.
You have no items in your shopping cart.
You have no items to compare.