Details
One of our showcase designs from our customer Amy Berry.
This is the 3D version of the editor that gives a detailed preview of the look of the MagicBand 2. A 2D editor is also available here.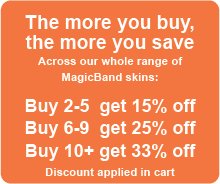 In the window above you can add up to three layers of images (you don't have to use all three!) and two different text areas to create your own, truly unique design. You can use images from our library, upload your own or a combination of the two.
Our specialist adhesive ensures that the Skin stays firmly in place while allow for trouble free removal when you are ready to change your style.
All of our MagicBand covers are precision cut and professionally produced to ensure a perfect fit to the colored portion of your Disney MagicBand 2 and are suitable for both smaller and larger MagicBands.
To use more than one image in your design, simply change image layers under the 'add image' section above.
Waterproof
UV resistant and lightfast
Precision Cut to the same shape as the MagicBand 2
Ultra-flexible
Pre-punched holes for smaller sizes
Great discounts when you order more
Free international shipping on all Magic Your Band orders
Note: The design preview may not look sharp in some web browsers but the final printed image will be as clear and sharp as your original artwork. This page uses WebGL technology. For a list of supported browsers and other WebGL information please refer to our FAQ. Actual MagicBands are obtained through Disney either free to resort guests or paid-for through Disney retail outlets.
Customer Tags: star wars, light saber, lightsabre, lightsaber