Details
This is a premium, clear ultra glitter Skin that can add sparkle to any MagicBand 2. It has a shimmering iridescent effect that flips from blue-green to orange-pink depending on the angle you view. Take a look a the photos to see how the same clear ultra glitter works on each colored MagicBand. This Skin can also be used to cover, protect and improve the look of your purchased limited edition MagicBands as well as being used in combination with other MagicBand Skins .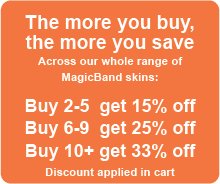 Our specialist adhesive ensures that the Skin stays firmly in place while allowing for easy removal when you are ready to change your style.
All of our MagicBand covers are precision cut and professionally produced to ensure a perfect fit to the colored portion of your Disney MagicBand and are suitable for both smaller and larger MagicBands.
Completely Waterproof
UV resistant and lightfast with a 10-year outdoor life
High-gloss finish
Precision Cut to the same shape as the MagicBand
Ultra-flexible
Pre-punched holes for smaller sizes
Great discounts when you order more
Despatched within 24 hours of order*
Free international shipping on all Magic Your Band orders
*Excludes orders that contain personalized products.
Please note that this material may leave a small amount of residue on the MagicBand if left in place for extended periods.
Customer Search Tags: clear glitter