Details
This MagicBand 2 Skin features the famous flying baby elephant whose ears grew extra large! Carefully hand-drawn by our professional artist, this original MagicBand 2 Skin features unique artwork. Don't forget, you can buy as-is or add your own customization by clicking the 'customize me' button above.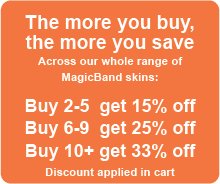 Our specialist adhesive ensures that the Skin stays firmly in place while allowing for trouble-free removal when you are ready to change your style.
All of our MagicBand covers are precision cut and professionally produced to ensure a perfect fit to the colored portion of your Disney MagicBand and are suitable for both smaller and larger MagicBands.
Waterproof
UV resistant and lightfast
Precision Cut to the same shape as the MagicBand
Ultra-flexible
Pre-punched holes for smaller sizes
Great discounts when you order more
Despatched within 24 hours of order*
Semi-gloss finish matches MagicBand
Free international shipping on all Magic Your Band orders
*Excludes orders that contain personalized products.
Customer Search Tags: Dumbo Magic Band