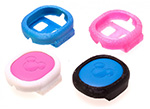 Since the introduction of MagicBand 2 a few years ago, Disney opened up the possibility of the useful, RFID portion of the MagicBand to be removed.
Removing the 'puck' portion of the Magic Band means that the puck can be used in its own or added to a puck holder so that the band itself doesn't have to be worn.
Puck holders come in a number of types, from adapters that allow you to add the puck to a watch band, to those that turn it in to a key ring or key fob.
Whichever option you might take, one thing you will need is a Magic Band Screwdriver. The screw on the Magic Band are tiny and of course need a correct screwdriver to suit.
The correct Magic Band Screwdriver size is a #00 of PH00. You can find these on Amazon or Ebay relatively cheaply.
Be very careful when removing the screws, they are extremely small and easy to lose or damage as you take them out.
Read More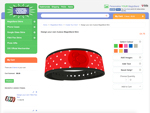 We're often asked about our online 'create your own' design tool, so in the video below we'll show you some of the features and walk thru creating a custom design....
Read More