Magic Band Colors
14 Jan 2016 13:13:22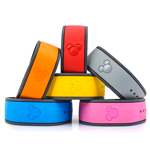 So you've booked you vacation, it's getting close and it's time to choose your Magic Band Color, but what colors are available and which one should you choose...?
Since their introduction in April of 2014, Magic Bands have been made avaiable in just 7 plain base colors; Gray, Red, Yellow, Pink, Orange, Green and Blue.
If you are staying in a Disney owned resort you are entitled to a free, plain-colored MagicBand as part of your reservation. These can be ordered through your "My Disney Experience" account on disneyworld.com. You can choose from the 7 available colors and add a name on the inside which, whilst it aids identification if you have several, can not be seen when wearing the band.
If you turn up for your vacation at a Disney resort without first choosing your Magic Band Color as described above, you'll be given an plain, un-personalized gray Magic Band. Leading many people to unofficially and unkindly dub this color the 'Gray Band Of Shame' as it's often an indicator that the wearer isn't an experienced planner!

Each Magic Band, no matter the color, has a dark gray edging and reverse side, it's the gray edge portion that you can remove if you want to reduce the size of the Magic Band for those with smaller wrists.
In late December 2015 Disney finally introduced a purple colored Magic Band which had hitherto been one of the most commonly requested colors. At the time of writing, the purple Magic Band is not avaialble for selection through "My Disney Experience" but can instead only be purchased at extra cost via Disney retail locations.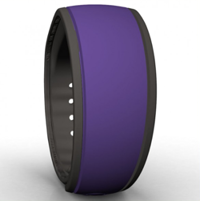 Whatever color Magic Band you may choose, we have a hude selection of designs (over 200!) that you can use to decorate your Magic Band or, of course, we have online design tools that allow you to create your own completely unique and personalized design with no mess or fuss!
Bookmark with:
Digg.com
Stumbleupon.com
Del.icio.us
Facebook
Reddit.com